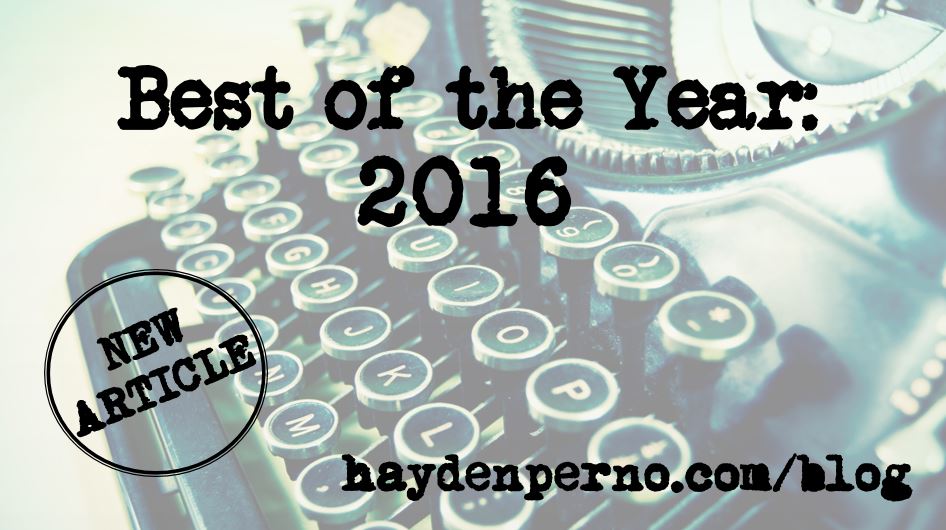 28 Dec

Best of the Year: 2016

Another year, another list of my favourite articles of the year. Whilst again I definitely am feeling a little pompous writing this, I do still like to put together a list of what I enjoyed writing the most and what people enjoyed reading the most. Because doing so not only allows me to review and re-read what I wrote in the year, but it also allows me to see if anything is changing in my writing.

Anyway, this year I wrote a total of 28 articles. 13 less than the 41 I did last year. But this year was a little different. This year, I chose to deviate slightly from the health and fitness industry articles that I kind of got myself into when I first started writing this blog. Which is not me saying that I don't enjoy writing those types of article for people, but rather that I also like to trial some alternative topics.

Regardless, I definitely enjoyed writing these 28 more than I did with last year's 41. So something there is noteworthy to me. This did, however, make it harder to pick out my favourite five.

Another cool thing for me is to see what's going on with my statistics. This years stats were a little better than last year, so  I am glad to see some sort of positive to spending time writing.

Anyway, enough chatter. Let's get into it. Here are my favourite/best received articles for the year of 2016.
My Top 5

1. Food Diaries: Three Steps To Addressing A Diet
There's no doubt that a food diary can say a lot about a person's life. Whether it be types of foods, styles of eating, or even timing of consumption, in this article I take you through my three top steps for addressing any diet.
Check it out by clicking here.
2. Improve Scapular Stabilization
Being aware of optimal scapular stability is key for improving in all your favourite lifts including deadlifting, chin-ups, push-ups, shoulder press, and even bicep curls. In this article, which was originally published on The PTDC, learn one of my favourite little drills to build true scapular stability awareness.
Hit this link to check it out now.
3. 3-Step Protocol To Dealing With Tightness
We have to face it, most of our lifestyles suck. Not only do we sit a lot, but we are also quite accustomed to not moving too much. We might be able to blame technology, but when it comes down to it, we are the ones to blame. But, just because a good slouch on the couch or an eight hour gig at the office in front of the computer is inevitable, it doesn't mean that we can't face the tightness that we are so susceptible to achieving and do something about it, right?
Exactly. So, why not learn my three-step protocol to dealing with persistent tightness by clicking here.
4. The Road To The Trophy Part II: Surgery, Psychology and The Industry
What does it take to get up on stage? In this article, learn what one of my clients had to go through leading up to getting up on stage for her second year in a row, and what kind of aftermath was waiting for her on the other side of it.
Check that out here.
It's very simple to get caught up in the rat race with the days melting by, and the weekends coming upon us so quickly. How long has it been since you reassessed where you were going or what you do each day? If it's been a while, you could be suffering from living an NPC life.
Learn what that is and what you can do about changing that right here.
Runner-Ups

1. Fasting: Why You Should Give It A Go
I find that sometimes setting a 24-hour fast to some of my clients is a good bit of homework for them to do. Why? Well, by not eating for 24 hours it can alter peoples mental state; their willpower, awareness, and emotional state. This is a good thing and it is the reason why I like to challenge people with something like this.
Hit this link to find out if fasting is something that you should consider.
2. The Apokélypse: Pokémon, Addiction, Dopamine and Life
Do you remember that Pokémon game that came out earlier in the year and turned a whole group of individuals into zombies outside your favourite café? Why are we so susceptible to becoming addicted to video games or even just our little handheld devices?
Learn what is going on inside our brains to cause the apokélypse that we witnessed back in July by clicking here.
3. Final Exams and a Flaw of the Education System
Here is something that is a little different to what I write about. What was cool about this one was that it originally appeared on The Huffington Post. In this article, I talk about the stress of exams and how things have changed so much since the education system was established, yet nothing is being done to adapt alongside the push of technology.
Check it out at the link here.
Well, that's a wrap. Merry Christmas, Happy New Year, and I'll see you on the other side.
______________________________________
Looking for some light reading in the holidays that will help you set up for 2017 to be your best year yet? Well, you need to pick up your free copy of Game Changers: 11 Habits That Could Change Your Life. 
Hit the picture below to head to the download page.


Comments
comments