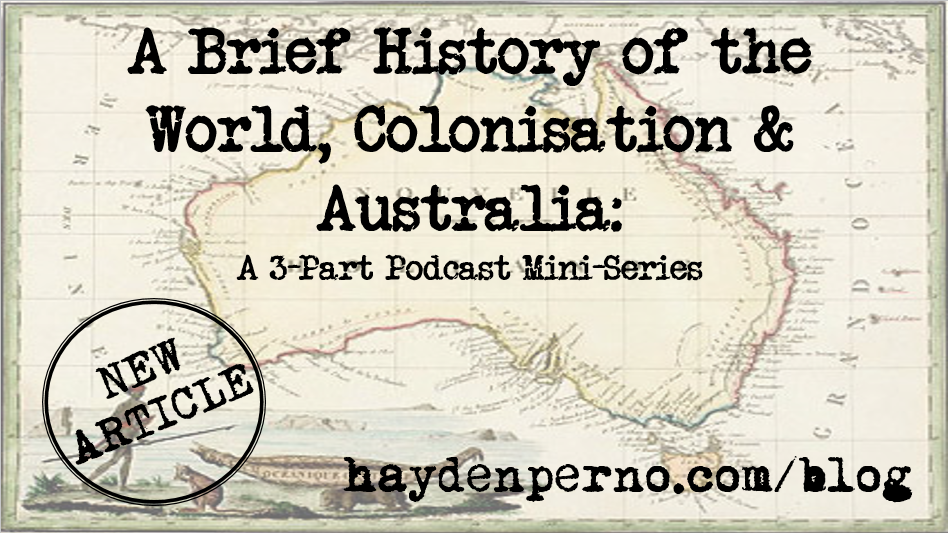 26 Jan

A Brief History of the World, Colonization & Australia

For the past couple of weeks I've been working with a friend to complete a small external project titled A Brief History of the World, Colonization & Australia.

Within it, we wanted to cover from the earliest beginnings of life on Earth, bring it right up through some of the most notable events in human history, and finish it off by discussing colonization and its impacts – specifically upon the Indigenous population in Australia.

Initially, we were intending to put together a full-length documentary addressing these topics, but after researching into these areas, we realised that we really didn't know too much about them, so we decided to start at a smaller stepping stone, and thus, the birth of a mini-series podcast.

If you are interested in yourself, the people you know or may even come in contact with, or the world around you, then this podcast series is for you.

Below you will find all three episodes. In the first and second episode we tell the story of life on Earth and the impact of colonization on the local life. And in the third, we managed to score an interview with Mr. David Kampers, an academic who is in charge of all Indigenous subjects at the University of Wollongong.

I hope you enjoy it.
---
Aboriginal and Torres Strait Islander listeners are advised that this recording may contain information of deceased persons.
We acknowledge the traditional custodians of country throughout Australia and recognise their continuing connection to land, waters and community. We pay our respects to them and their cultures; and to Elders both past and present.
---
Part One: The History of the World
Part Two: Colonization & Australia
Part Three: David Kampers Interview
Comments
comments