NOTE: Solely for Calorie Budget requests, please head to this link instead.
How do you feel about yourself right now? How would you like to feel? How much time and money have you wasted not achieving your desired results? How does that make you feel?
A lot of people I meet struggle day-to-day with creating and keeping a plan. One reason why is because they dread working out and view it as a chore.
It's not supposed to be this way.
Another reason is that they're not sure how the hell they're going to fit it into their weekly schedule.
I totally get that.
And, this is where online coaching comes in.
What is it?
By using the magic of this internet thing, that we've all grown quite fond of lately, I am able to provide you with an individual program that is customized completely with your desires.
For many of the people that I work with currently online, they come from a history of dealing with trainers that cycle generic programs, count reps with glazed eyes, and leave them six months down the track looking and feeling the same (or worse!).
I'm here to show you that that is not what it is about, nor does it have to be this way at all.
Each workout program and caloric guide is tailored to each individual — to your needs. So whether you're looking to shred some fat, help wave goodbye to pain, or build some serious muscle, you can trust that what you are given is specifically designed to what it is you want most.
How do we do this?
Just by owning a camera, an email, a free PayPal and Skype account (NOTE: Skype account only necessary for Level Three's), we're able to get underway immediately.
But what if you're camera shy? Don't stress, I am too. I know it can suck and can be awkward, but by using photos and/or footage, I am able to structure your program even more so to your own posture and movement patterns. (NOTE: Not completely necessary, however.)
Is it really this simple?
It really is. By using email we can converse quite easily, and the option of a Skype call is available to each and everyone of my clients also.
Although the simplicity is there, what I find works best is to not be baby-fed when embarking on these types of journeys. By providing you with a plan, guiding you, and holding you accountable along the way, it will help enable you to take control of your own destiny.
And, isn't it about time you put yourself first for once?

What are the packages?
So what does each package include anyway, you ask? At the bottom of this page you will see a pretty little table, that I actually made myself, showing the exact breakdown of what each level entails.
Before we get to that, let me give you a quick overview.
Now look, I understand that coaching may seem like it can be too expensive for most people, but each level has been designed so that no matter what your budget is, you'll still be able to get yourself on the way to achieving your goals.
Below, is a description of what each package's options entails.
Individualised programs: Depending on which level you decide on, the option to choose between two and an unlimited amount of programs for each week in the month exists. Although I will still decide on how many programs you actually need, despite the number written on each package, you can still request as many as you like designed for your week-to-week training.
Each of your programs will be designed specifically to your needs and wants. So they will consist of everything from strengthening, toning, rehabbing injuries, conditioning, and everything in between.
Caloric budget guide: Each month you have the option of me calculating a pretty much exact (exact's are never possible when it comes to energy outputs) guideline of how much you should be consuming on a daily basis to reach your body goals.
Whether it be to lose fat, gain muscle, or both (yes, it is possible), I will provide you with your protein, carbohydrates and fats breakdown to adhere to.
Nutrition guidelines (PDF): This mini eBook will be sent to your inbox upon commencing your training with me. I update it regularly (about once every 6-8 weeks) with my favourite foods, meals, ideas for each macronutrient, along with any cool nutrition information that I think will help you.
Email support: This is where the accountability comes in. I will be checking in with you weekly (sometimes bi-weekly) to make sure you are on track with your goals. There's no use in me sending you through a program if you're unable to reach me with questions, comments, ideas and feedback (both positive and negative), so this will be one of the best ways to keep in touch with me.
Due to the amount of emails I do receive, I will appreciate it if you keep emails to the point and in an easy-to-read, dot point format.
Online posture screen: This can be an uncomfortable thing to do, but I ensure you, I will be the only one that ever sees these photos.
All you have to do for this step is to take three photos. One of you from the side, back and front. Super simple and it always provides me with a much better tool to structure programs exactly to one's needs.
Online movement screen: Another possibly uncomfortable step, but nonetheless, something that indeed helps me with the designing of individual programs.
This one requires you to film yourself performing a few movements. It shouldn't take you longer than 2 minutes to complete.
Phone support (Skype): Once a month, an optional phone call is available to you (depending on the package) to ask me anything. We can also just use the call to check in with how you're doing and whether or not you caught the latest episode of The Walking Dead too, if that floats your boat.
Who is this for?
For six years I've done my best to show hundreds of people that life really does not have to be as boring, depressing, painful, and uneventful as they might think. It's always hard to stop or slow a downward spiral from happening, but this is when coaching works so well.
Once you put yourself first, implement a plan, and start to take ownership of your life, everything falls into place.
In saying this, online coaching is not for everyone. It is most certainly not for anyone that relates to any traits like;
No desire to put in effort
Uninterested in results
Would prefer to hire a trainer that barks orders at them from afar
Scared of change
Uninterested in feeling better, moving better, and growing in confidence
Would prefer to wait for the next quick-fix program to show up on Danoz
No desire to go about a plan that can legitimately help them.
Are you ready?
If you tire of no progress in your training and online coaching sounds like it's right for you, then it's time to apply.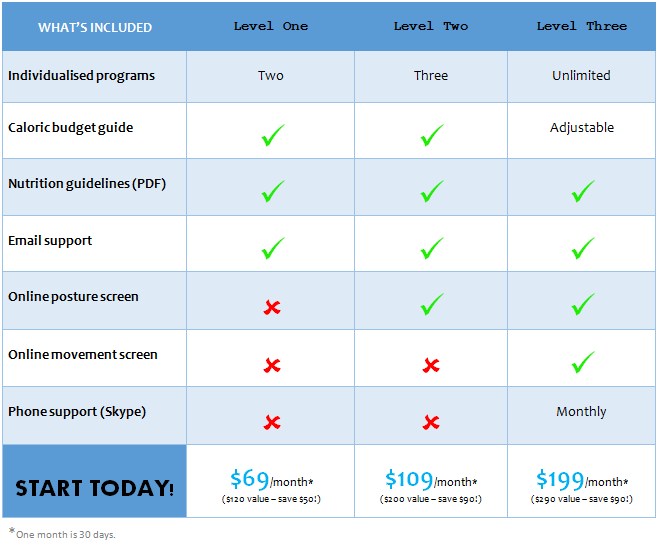 What are you waiting for? Another day, time, moment in life that will magically appear? It's time to own your life now.
Apply by choosing your level below.
Do you live in the Illawarra of NSW, Australia region? Contact me here to apply for an in-person consultation.